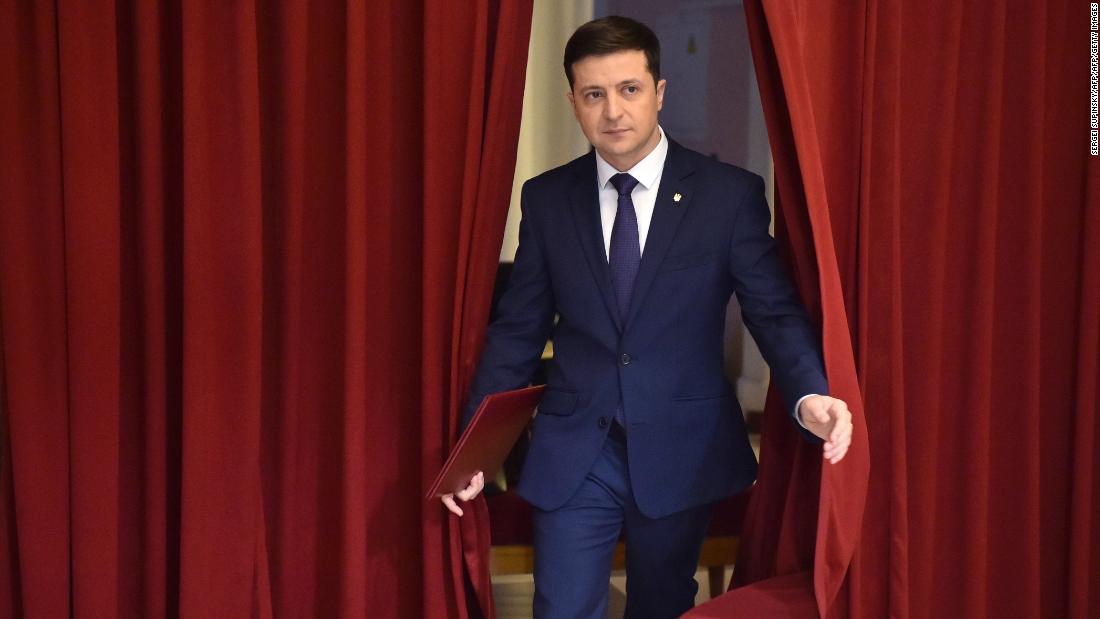 (CNN)On Monday morning Ukrainians will wake up to a President who comes from outside the traditional political elite that has led this country of more than 40 million people since independence in 1991.
As such, Zelensky will likely enjoy an extremely short honeymoon in which to prove that he can ably translate his comedic, on-air persona into a living, breathing president with substantial decision-making powers over foreign affairs, defense, intelligence, and in appointing the nation's top prosecutor.
"For Zelensky, winning was the easy part. The hard part will be building a coalition of parties in the parliament to help him deliver or his administration will not succeed. Forget the claims that he's a clown and knows nothing. He likely won't be able to do much in the next six months because every political party is positioning itself for the October parliamentary elections and will want to prevent Zelensky and his party from any real legislative success. Expect gridlock and massive fighting in the Ukrainian parliament in the next sixth months if the governing coalition holds," Melinda Haring, editor of the Atlantic Council's UkraineAlert blog and a senior fellow at the Foreign Policy Research Institute, told me.
At least Ukrainian voters got some last-minute exposure to Zelensky's style when he unveiled his inner circle two days before the election, and in a carnival-like spectacle stadium debate, where he displayed a surprisingly savvy debating style.
Zelensky's picks for his team, which were unveiled live on Thursday on the same channel which broadcasts his comedy series, showed that, out of a team of 20, there were only four women, the youngest was 26 and the oldest 62, and most were relatively unknown. But in the crucial area of boosting the Ukrainian economy, the inclusion of technocrats such as former finance minister Oleksandr Danyliuk, former economic development and trade minister Aivaras Abromavicius, and lawmaker and anti-corruption campaigner Sergii Leshchenko is a positive move.
As spectacular as it was, by Election Day, when this overwhelmingly Orthodox Christian nation also observed Palm Sunday, Zelensky's victory felt inevitable.
Signs that Poroshenko would head for defeat were apparent well beforehand: he trailed Zelensky by 14 percentage points in the first round.
Poroshenko and his team also showed a stubborn tone deafness throughout both campaigns, failing to speak to the bread and butter issues that most Ukrainians care about, including tackling rampant corruption, stemming a brain drain, raising the standard of living and pensions. Facing the nation with a
patriotic platform
of "army, language and faith" failed to resonate with younger voters, but an expected crucial pivot to "it's the economy, stupid" never materialized.
Zelensky has
pledged
to be a one-term president. If he lives up to that promise, now that he's busted through the once-exclusive doors, could it be that in five years another fresh face becomes Ukraine's seventh president?
Original Article : HERE ; This post was curated & posted using : RealSpecific